udostępnił zdjęcie - ponad 3 lata temu
i
Bob Moore's 909 FMF Honda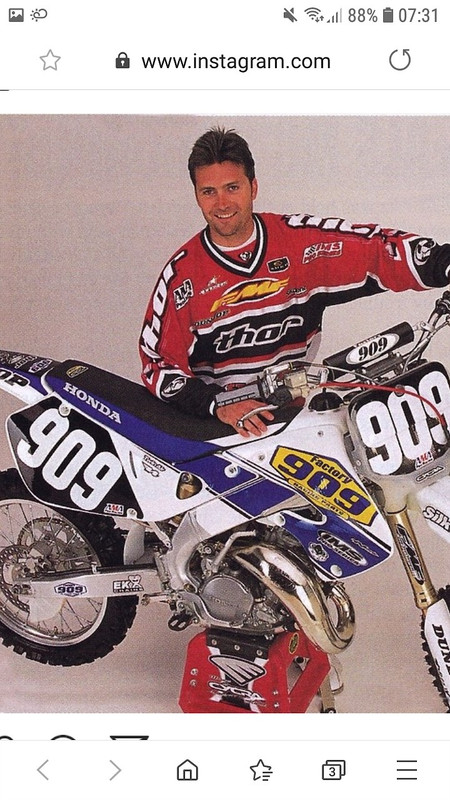 How the 909 bike came about. Chris Gosselaar was one of four riders on the FMF Honda team. An unfortunate incident left him with two broken feet when his bike shut down on the face of a big jump.
Bobby was the FMF team manager at the time.
Along came Danny LaPorte who was launching the 909 range of product, Danny pitched his idea to Bob. Build a 909 bike and hit the outdoors to promote 909.
Bobby decided to roll with the idea. Goose's mechanic was gone and I was pulled in to come wrench for Bob. We used Goose's bike as a base and with time dialed it in for Bob. While his fitness was not where it should have been he nevertheless was fast.
The dream started to derail - Varner, Bobby and myself were out testing carburators one day (a few weeks out from the start of the outdoors) when Bob went down hard and injured his shoulder.
That appeared to be the end of Danny's promo.
Come Glen Helen and Bob decided to give it a go. He was on pace in practice but his shoulder was still hurting so he decided to call it a day....or season..
Then came Mount Morris...Bob wanted another shot.
Both motos he was running top five before fading. The speed was there but not the fitness.
It was fun whilst it lasted and I stand to be corrected but that was Bob's last pro race.
Sadly, pictures of the bike are rare. We did do a professional photo shoot at a studio with the bike but can't remember where or who shot the pics.
Bob Moore is a great guy and it was a privilege to be part of that deal. Awesome memories.